Content of the article
Telus has begun working to bring its high-speed Internet network, PureFibre, to rural and Indigenous communities in the municipality. When completed in late 2023, gigabit speeds and enhanced mobile coverage will be available in all rural hamlets, First Nations and Métis communities south of Fort McMurray, as well as Fort McKay First Nation and Métis in Fort McKay.
Content of the article
The $21 million partnership includes $13.2 million from the municipality and $7.8 million from Telus. The project was awarded to Telus following a municipal request for proposals issued in 2020. The company has invested $17 billion in infrastructure and operations across Alberta through 2026.
Councilor Jane Stroud – who represents Anzac, Conklin, Gregoire Lake Estates and Janvier on the council – has been pushing for better internet access for much of the past 10 years. She said the COVID-19 pandemic has clearly shown policymakers how difficult life can be in rural areas without a reliable broadband connection.
"We've been really challenged during COVID-19 and the amount of bandwidth available has made it quite frustrating for a lot of people, especially students," Stroud said in an interview Thursday. "A lot of opportunities are about to open up for these communities."
Stroud said slow internet speeds were a common complaint she heard from rural residents during pandemic shutdowns. Many families with students struggled to join lectures and watch videos for homework, and Stroud said it was difficult to join council meetings from his home in Anzac.
Stroud hopes to see how improving internet access will help rural businesses. But most people are happy to have internet speeds that will allow them to pay bills, watch movies, play video games, and take classes.
Mayor Sandy Bowman said the ability to have basic health consultations online will be easier in communities with few health care resources.
Content of the article
"Broadband connectivity is now an essential service and we've seen how important it is during the pandemic," Bowman said after the event. "It's been a long time coming."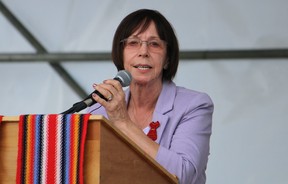 RMWB pushes for high-speed internet in the Fort Chipewyan area
The Fort Chipewyan area, which includes the Fort Chipewyan Métis, Athabasca Chipewyan First Nation and Mikisew Cree First Nation, is not part of the program because their remoteness makes necessary construction difficult.
Bowman said there are concerns about internet quality in the Fort Chipewyan area and the municipality is considering different projects that could bring high-speed internet to the area. Many providers, including SpaceX's Starlink, are possibilities.
Zainul Mawji, executive vice president and president of residential solutions and customer excellence at Telus, said in an interview that the company needs to assess the region and form partnerships before expanding this far north. But, she says, Telus has been able to bring high-speed Internet to remote communities like Fort Chipewyan through various partnerships.
"There is very complex architecture and engineering associated with any community," Mawji said. "Many communities want to benefit from the service and so we have been very open to partnering with communities… This is by no means our first partnership, but it is the largest we have announced to date. "
For now, the municipality is overseeing other large-scale rural projects. Construction of water and sewer services for the hamlets south of Fort McMurray is on schedule. Construction of a new fire station at Fort McKay is complete. The council also visits rural hamlets and has just completed a visit to Fort Chipewyan. Bowman said Telus will provide weekly construction updates that people can hear on the municipal Pulse line.